Welcome to the 4th Annual
Wherever I Go
By Mary Wagley Copp & illustrated by Munir D. Mohammed
Told by a succession of exuberant young narrators, Magnificent Homespun Brown is a story — a song, a poem, a celebration — about feeling at home in one's own beloved skin. With vivid illustrations by Kaylani Juanita, Samara Cole Doyon sings a carol for the plenitude that surrounds us and the self each of us is meant to inhabit.
Of all her friends, Abia has been at the Shimelba Refugee Camp the longest—seven years, four months, and sixteen days. Papa says that's too long and they need a forever home. Until then, though, Abia has something important to do. Be a queen. Sometimes she's a noisy queen, banging on her drum as she and Mama wait in the long line for rice to cook for dinner. Sometimes she's a quiet queen, cuddling her baby cousin to sleep while Auntie is away collecting firewood. And sometimes, when Papa talks hopefully of their future, forever home, Abia is a little nervous. Forever homes are in strange and faraway places—will she still be a queen? Filled with hope, love, and respect, Wherever I Go is a timely tribute to the strength and courage of refugees around the world.
Mary Wagley Copp &
Munir D. Mohammed
Munir D. Mohammed is a native of Ghana, West Africa, who lives in Providence, Rhode Island. He maintains an active studio practice and does community-based work as a muralist. He is the cofounder of the International Gallery for Heritage and Culture, which provided art and cultural education programming in schools and in the community. Munir received a Master of Arts degree from the Rhode Island School of Design, where he is a Teaching Artist for Project Open Door, RISD's college access program for artistically talented teens attending local urban public high schools.
Mary Wagley Copp has worked for many years in the refugee resettlement community. She was a producer of an Emmy Award–winning documentary on refugee resettlement, which was the inspiration for this book. Her professional life has also included community organizing in Appalachia, teaching in Ecuador, and being executive director of two nonprofit organizations. When she's not writing, Mary teaches ESL to newcomers in her community. She lives in Westport, Massachusetts, with her husband, their puppy, and their chickens. They have three grown children.
---
Watch
Woven Crown – Craft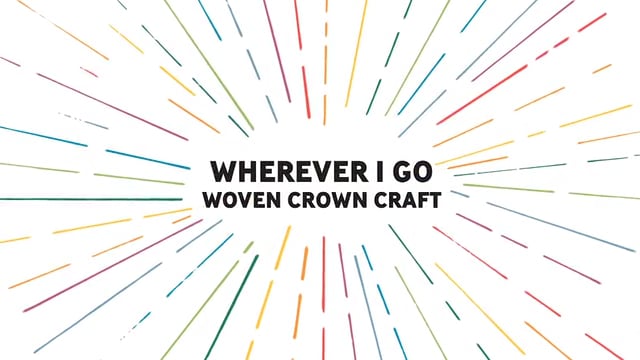 ---
Share Your EXPERIENCE!
Show us your moves! Share your artwork! Tell us what book you liked best!
Upload below or tag us on social media 
#beautifublackbird
---