Welcome to the
Overground Railroad
By Lesa Cline-Ransome & illustrated by James E. Ransome
As she climbs aboard the New York bound Silver Meteor train, Ruth Ellen embarks upon a journey toward a new life up North— one she can't begin to imagine. Stop by stop, the perceptive young narrator tells her journey in poems, leaving behind the cotton fields and distant Blue Ridge mountains.
Each leg of the trip brings new revelations as scenes out the window of folks working in fields give way to the Delaware River, the curtain that separates the colored car is removed, and glimpses of the freedom and opportunity the family hopes to find come into view. As they travel, Ruth Ellen reads from Narrative of the Life of Frederick Douglass, reflecting on how her journey mirrors her own— until finally the train arrives at its last stop, New York's Penn Station, and the family heads out into a night filled with bright lights, glimmering stars, and new possibility.
Lesa Cline-Ransome & James E. Ransome
Lesa Cline-Ransome has written many books for children, including Before She Was Harriet, which received five starred reviews, a Coretta Scott King Honor, and a Christopher Award, and her debut middle grade novel Finding Langston, which received a Coretta Scott King Honor and five starred reviews. She lives in upstate New York with her husband and collaborator, illustrator James E. Ransome.
James E. Ransome's numerous accolades include a Coretta Scott King Medal, three Coretta Scott King Honors, and an NAACP Image Award. He lives in upstate New York with his wife and collaborator, writer Lesa Cline-Ransome.
---
Watch
Overground Railroad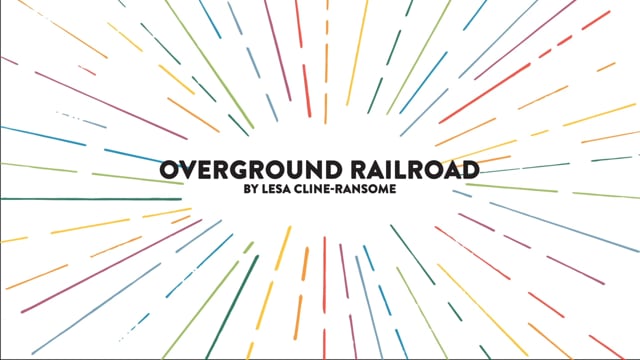 ---
Share Your EXPERIENCE!
Show us your moves! Share your artwork! Tell us what book you liked best!
Upload below or tag us on social media 
#beautifublackbird
---