Welcome to the 4th Annual
Auntie Luce's Talking Paintings
By Francie Latour & illustrated by Ken Daley
Every winter, a young girl flies to Haiti to visit her Auntie Luce, a painter. The moment she steps off the plane, she feels a wall of heat, and familiar sights soon follow — the boys selling water ice by the pink cathedral, the tap tap buses in the busy streets, the fog and steep winding road to her aunt's home in the mountains. The girl has always loved Auntie Luce's paintings — the houses tucked into the hillside, colorful fishing boats by the water, heroes who fought for and won the country's independence. Through Haiti's colors, the girl comes to understand this place her family calls home. And when the moment finally comes to have her own portrait painted for the first time, she begins to see herself in a new way, tracing her own history and identity through her aunt's brush.
Francie Latour & Ken Daley
Francie Latour is a writer and educator whose work explores issues of race, culture and identity. She was a staff reporter for the Boston Globe for ten years, and her essays have been featured on National Public Radio, the Today show, The Root and Essence. This is her first picture book. Francie was born in the US to Haitian parents and traveled to Haiti often as a young girl. She was inspired to write Auntie Luce by a chance encounter in 1992 with the late Luce Turnier — one of Haiti's most celebrated female artists — who painted Francie's portrait.
Ken Daley was born in Canada to parents who emigrated from Dominica, and his illustrations for this book are inspired by his African Caribbean roots. Ken has also illustrated Joseph's Big Ride by Terry Farish, an Ontario Library Association Best Bet. He has exhibited his art in Canada, the United States and the Caribbean, and his work can be found in numerous private collections.
---
Watch
Aunt Luce's Talking Paintings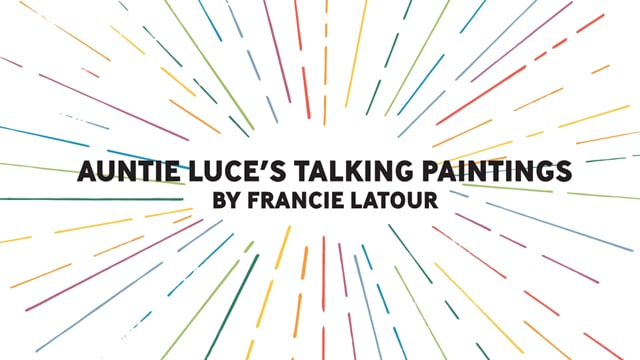 Auntie Luce's Talking Paintings
---
Share Your EXPERIENCE!
Show us your moves! Share your artwork! Tell us what book you liked best!
Upload below or tag us on social media 
#beautifublackbird
---